Taking some time for yourself during your holiday, with a yoga class in the midst of nature. A moment of relaxation, clearing your head and start your day in `zen` mode.
The benefits of yoga are endless. Inner peace, more flexibility, more energy, learn to relax, become stronger and develop better health.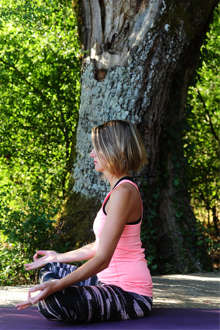 When you're on holiday it's the perfect chance to truly relax and properly hit 'reset'. Why not treat yourself to a yoga class, (perhaps even outdoors) in the midst of gorgeous Burgundian nature ? Clear your head. Start a new day in 'zen' mode.
The benefits of yoga are endless. Inner peace, more flexibility, extra energy, the invauable gift of learning to relax, increased strength and better health.
The yoga classes we offer at Kimaro are suitable for both beginners and advanced, all ages and genders.
The class will be adapted to each level. That means everyone can participate, and for those who wish, an extra challenge can be offered, too.
Classes are held in the yoga tent or on the wooden platform under the old oak tree overlooking the meadow.
Hatha Yoga is the mother of all yogas, dating back around 5000 years. It was developed by monks to keep the body in prime condition, so that their daily meditation could come effortlessly.
The Classical Hatha Yoga postures work mainly on the internal organs. They stimulate digestion, the hormonal system, promote blood circulation and eliminate waste and toxins. Ailments such as insomnia, headaches, digestive issues, and more, are relieved.
We hold Yin yoga classes in the evenings, where we focus on increasing the suppleness and flexibility of the body, especially in the joints, attachments and connective tissue.
Yin yoga poses need to be held for several inhalations and exhalations, which stimulates the deeper tissues. This form of yoga leads to an improved flow of energy and life force, stimulates the organs, brings balance and calms the mind.
| | |
| --- | --- |
| Hatha yoga class 75 minutes | € 15 pp |
| Yin yoga class 75 minutes | € 15 pp |